How to Choose a Mind-Body Exercise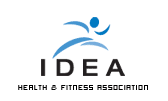 Are you looking for something different in your workouts--exercise that will engage your body and mind in a new way? Mind-body exercise (physical activity performed with an internal focus) is an increasingly popular choice. It can improve not only flexibility, strength, posture and balance but also coordination, stress management and focus.
Article courtesy of IDEA Health & Fitness Association. Reprinted with permission.