Boosting Your Body Image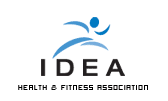 When was the last time you heard an infant say she couldn't come out to play because she was having a bad hair day? How many toddlers do you know who'll refuse an ice-cream cone because they want to squeeze into their "skinny jeans"? We are not born with a body image. The way we feel about how we look is learned and influenced by family, friends and the media. It is also influenced—positively or negatively—by our race, our gender and the culture in which we are raised.
Article courtesy of IDEA Health & Fitness Association. Reprinted with permission.